Description
FREE UK Delivery on ALL orders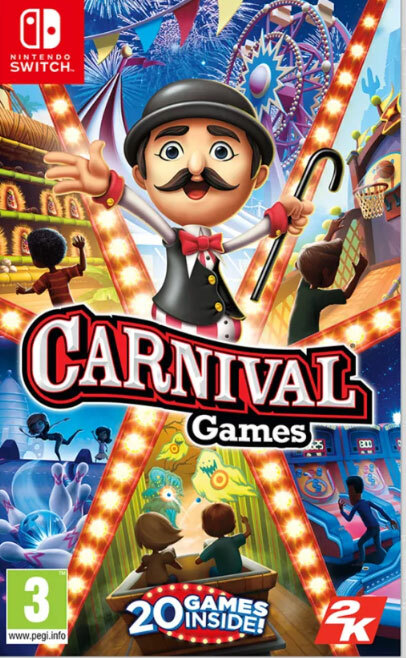 Carnival Games [Code In Box] (Switch)
New
PLEASE NOTE – THIS HAS FRENCH AND DUTCH LANGUAGES BUT PLAYS IN ENGLISH AND IS FULLY COMPATIBLE WITH ALL SWITCH CONSOLES.

Carnival Games brings the party back for the entire family, now for the first time on Nintendo Switch!

With both fan-favourite and brand-new mini-games all in one package, Carnival Games offers fun for everyone and can be played alone or with up to three others. Hit home runs, pile the highest stack of cakes, and take your horse to the finish line. 20 total mini-games will have you and your friends stepping right up to win again and again!

And with Nintendo Switch, the Carnival Games experience can be enjoyed wherever, whenever!

A FUN VARIETY OF CARNIVAL GAMES FOR EVERYONE: Like a real-life county fair, Carnival Games bursts with exciting mini-games that you can play over and over. Classic mini-games such as shooting basketballs ("Swish") and taking down unfriendly clowns ("Clowning Around") are joined by brand new attractions like flying drone racing ("Light Speed") and cosmic bowling ("Cosmic Strike"). With 20 total games Carnival Games is a fantastic time for all.

CARNIVAL GAMES EVERYWHERE: With Nintendo Switch, Carnival Games is a game for everyone and for everywhere. Whether on the big screen or small screen, Carnival Games can be enjoyed wherever you want to play.

A MULTIPLAYER PARTY: Bring your family and friends in on the fun for a true Carnival Games party. Up to 4 players can participate simultaneously, bumping up the level of excitement and competition in all 20 carnival mini-games.

PLAY, WIN, GET REWARDS: Play games, win tickets, and trade them in for new outfits for your carnival guest characters. Dress them up to match your style or be as wild as you can with wacky headgear, shirts and bottoms.

©2018 Take-Two Interactive Software, Inc. 2K, Carnival Games, and their respective logos are trademarks of Take-Two Interactive Software, Inc. All rights reserved. All other marks are property of their respective owners.

When will my order be dispatched?

Orders will be dispatched on the next working day.

When can I expect it to arrive?

UK
Deliveries to destinations in the UK usually arrive within 1-2 working days after the order is dispatched with the vast majority arriving on the next working day.

If you no longer want your purchase you can arrange to return it to us within 30 days of placing the order for a refund, provided that the item is in its original packaging.

Please be aware that we will not refund your return postage costs. Please check compatibility before completing checkout.

For our full returns information, click here.